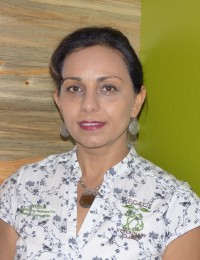 Nushin Farjadi attended Metropolitan State College and University of Colorado Boulder and earned a degree in business and marketing. She operated a promotional company for several years where she and her partner helped companies and non-profits attain their productivity, safety and operational goals.
In the past ten years her focus has turned into incorporating wellness and ecology in all her endeavors. Ms. Farjadi is also a graduate of the Greater Good Academy, which is course work specially designed for "triple bottom line" entrepreneurs, aiming for environmental and social justice benefits when measuring bottom line success.
Being passionate about the environment, Nushin regularly serves a guest speaker and panel member at the local Science/Tech/Engineering/Math school.
Nushin is also a volunteer organic community garden coordinator, where she works with others, offering education and access to healthier local vegetables and fruits. Her other hobbies include Zumba, multicultural programs, and enjoying the outdoors with her family.
Ms. Farjadi is excited to be a team member of LVC as we build a pet care philosophy which goes beyond the traditional veterinary practice models.